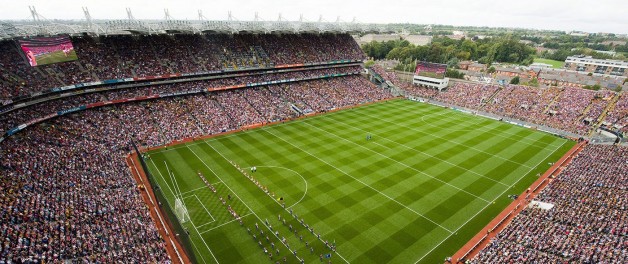 Congratulations to the boys hurling team on their fantastic win recently in their semifinal and for reaching the final in Croke Park. We are so proud of the boys for all their hard work. They have made school history by becoming the first boys team to make a Croke Park final. It will take place on Monday, June 12th at 10am. This is a huge occasion for the school and we are all very excited! We hope that we will have a great crowd of supporters present to support the team on the day.
Bus: We have organized supporter's buses for the day. Naíonán Bheaga and Naíonán Mhóra will be looking for some parents to help with supervision of their class on the day so if you come along and support the team and give the class teachers a hand that would be great. The cost for children is €8.00 (bus and entry fee). There is no fee for the players.
Parents: There will be limited places available for adults on our buses too. Total cost for adult bus and entry is €10. Croke Park are only accepting tickets at the gate so please ensure you have them purchased beforehand! If you don't have a ticket, you will not be allowed in. Adult entry costs €5 and tickets must be bought from the school. If you are making your way to the game yourself you must enter at the rear of the Davin Stand car-park, via St. Margaret's Avenue (off North Circular Road). You will be directed from there to the Cusack stand pitch.
We need to give our final numbers to the bus company by Friday so please book your place as soon as possible. Payments will start being collected Wednesday morning and each morning thereafter in the yard by parents, alternatively you can send money in with your child.
There are no designated seats on the day. The boys will be playing on the Cusack Stand side.
Follow this link for further info: http://www.cnmb.ie/information-for-finalists.asp
We will be back in the school by big lunch, 12:20
Don't forget to wear the school colours (maroon and white). We will have flags and face paints on the day. If you would not like your child to get face paint please send his/her múinteoir a note.
In summary
What's on? Boys under 13 Hurling Shield Final
Date: Monday the 12th of June, 2017
Venue: Croke Park
Child price (bus & entry): €8
Adult price (bus & entry): €10
Adult entry: €5
Payment: Cash. Every morning before school this week starting Wednesday 7th or cash in school envelope.
Parents parking: Behind Davin stand via North Circular Road
Bus departing: 8:50
Bus returns: 12.20
Any further enquiries? Speak to Donncha or Oisín
Le gach deá guí,
Múinteoir Donncha agus Múinteoir Oisín